Visualization
Throughout my career, visual storytelling has been at the core of what I do. Whether we're pitching to stakeholders or specifying a design object for construction, I've strived to develop methods for finding clarity amidst chaos and beauty in complexity.
Plate 01: Constructing Context
Represented at the center of Plate 01 is a matrix - Thomas Jefferson's enlightenment reconstruction of the Christian New Testament known as the Jefferson Bible. While sitting as third President of the United States, Jefferson embarked on a staggering project of biblical revisionism. Though he believed Jesus of Nazareth to be a great moral teacher, he noted that Jesus wrote nothing himself, and argued that his message had been clouded over the centuries by charlatans and opportunists who concocted notions of divinity and the suspension of the laws of nature for their own immediate purposes.
To distill a factual account of Jesus' ethical message unburdened by miracles and supernatural events, Thomas Jefferson took a razor blade to the New Testament - extracting relevant passages from the four evangelists and pasted them into a single, chronological volume - a project kept secret until his death.
Plate 02: Foul Ground, Fair Territory
Nearly every major American city has one: just under three acres of manicured lawn, a singular large cleared site amongst the dense grain of tiny urban lots, prime real estate that is neither public park nor post-industrial development opportunity, a volume hollowed out of the city fabric that remains well lit on summer nights. Surrounded by the ebb and flow of capitalism's creative destruction, this urban void has been preserved for the playing of baseball.
After surviving 19th Century ordinances prohibiting its play in the public square, the game now occupies significant sites in 30 American cities. Though the playing surface is always determined from the resultant summation of fair territory and foul ground, not one of these stadiums bears a playing field of identical dimension. Unlike any other major professional American sport, the game of Major League Baseball is played over a network of spatially inconsistent fields - represented here as a singular landscape.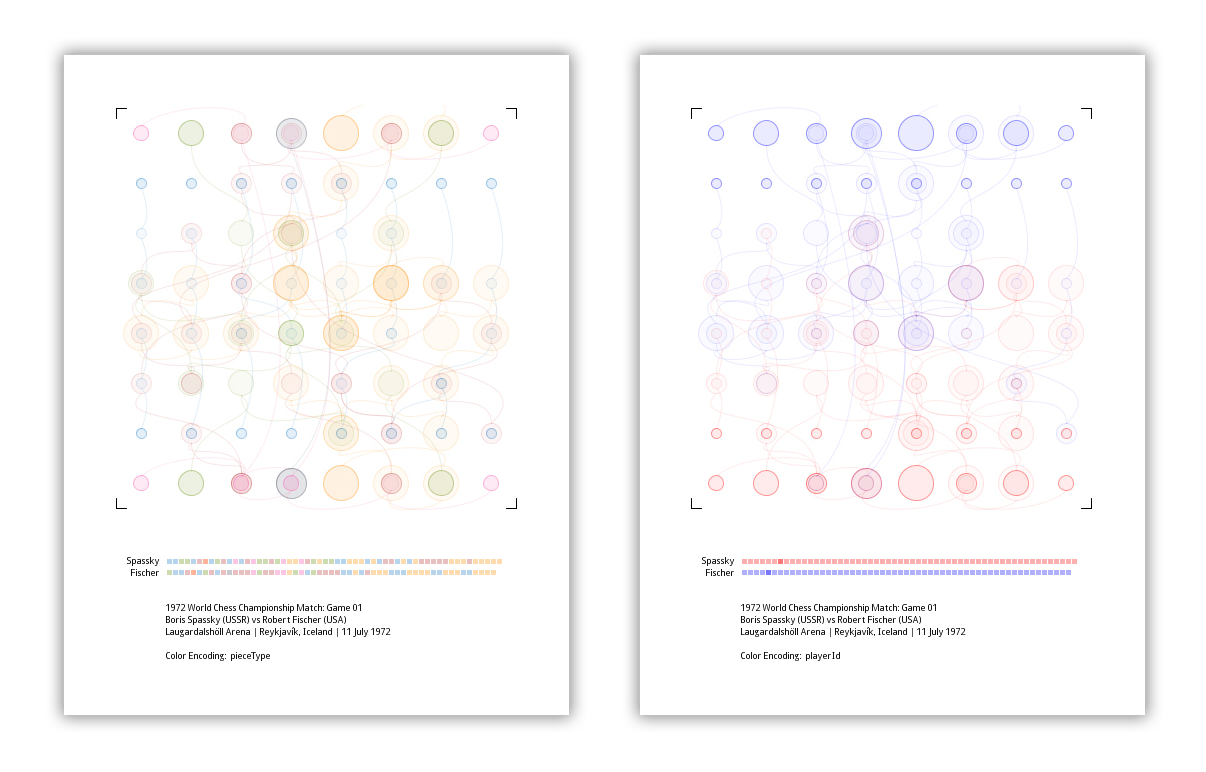 Plate 03 (beta): Proxy Pawns
Currently under development, Plate 03 is a visualization of the 1972 World Chess Championship match between Boris Spassky (USSR) and Robert Fischer (USA). The visualizations are coded in Processing.
Though the exercise is in its infancy and aims to eventually visualize and explore all 21 games of this historic match, issues of process, pattern, and space have already begun to emerge alongside front-page Cold War politics. Nuances in symbology allow dramatically different identities to emerge from the same system when the moves are encoded by the type of chess piece moved or by the player moving the chess piece.
Read more about the American Lines series and see the interactive visualizations.
A Pair of Invasive Species
Precious Isolation is a large scale (125" X 55") infographic developed under "Landscapes of Quarantine" - a multi-disciplinary design studio directed by Geoff Manaugh and Nicola Twilley exploring the spatial implications of quarantine.
Described by the curators: "The mobile infrastructure of perimeter defense and personal protection that allows the U.S. president to travel around the world is here compared to the climate-controlled environments of Plant Rescue Centers inside of which illegally imported plants secretly flourish. Endangered orchids and U.S. presidents alike are confined within hermetically sealed worlds, expensive microcosms cut off from their surroundings."
Precious Isolation appeared in the resulting group exhibition at New York City's Storefront for Art and Architecture from March 10 - April 24, 2010. See photos from the opening.
Virginia Project Site
Shown at left is one calendar year of climatic data illustrated during the site analysis phase of a project on Grounds at the University of Virginia. The graphic overlays this climatic data with the university's academic calendar. The idea was to surface the best time of year for various academic populations to use the space.
 
A CONSTRUCTED ROMAN ALPHABET