Geospatial
It was a thrill, and the honor of my professional career, to spend four years serving in the Geographic Information Systems (GIS) Unit at New York City's Office of Emergency Management (OEM).
As the home of NYC's Watch Command and Emergency Operations Center, OEM is responsible for incident response, long range planning, and public messaging. The GIS division supports these missions through data collection and mapping - both in the office and in the field.
Geographic Information Systems
NYC OEM
The City of New York's Office of Emergency Management relies on accurate geographic information for virtually all of its emergency response and planning operations. The GIS Division supports these operations by enhancing situational awareness with paper maps and web applications. I was a member of said division from 2007 to 2011.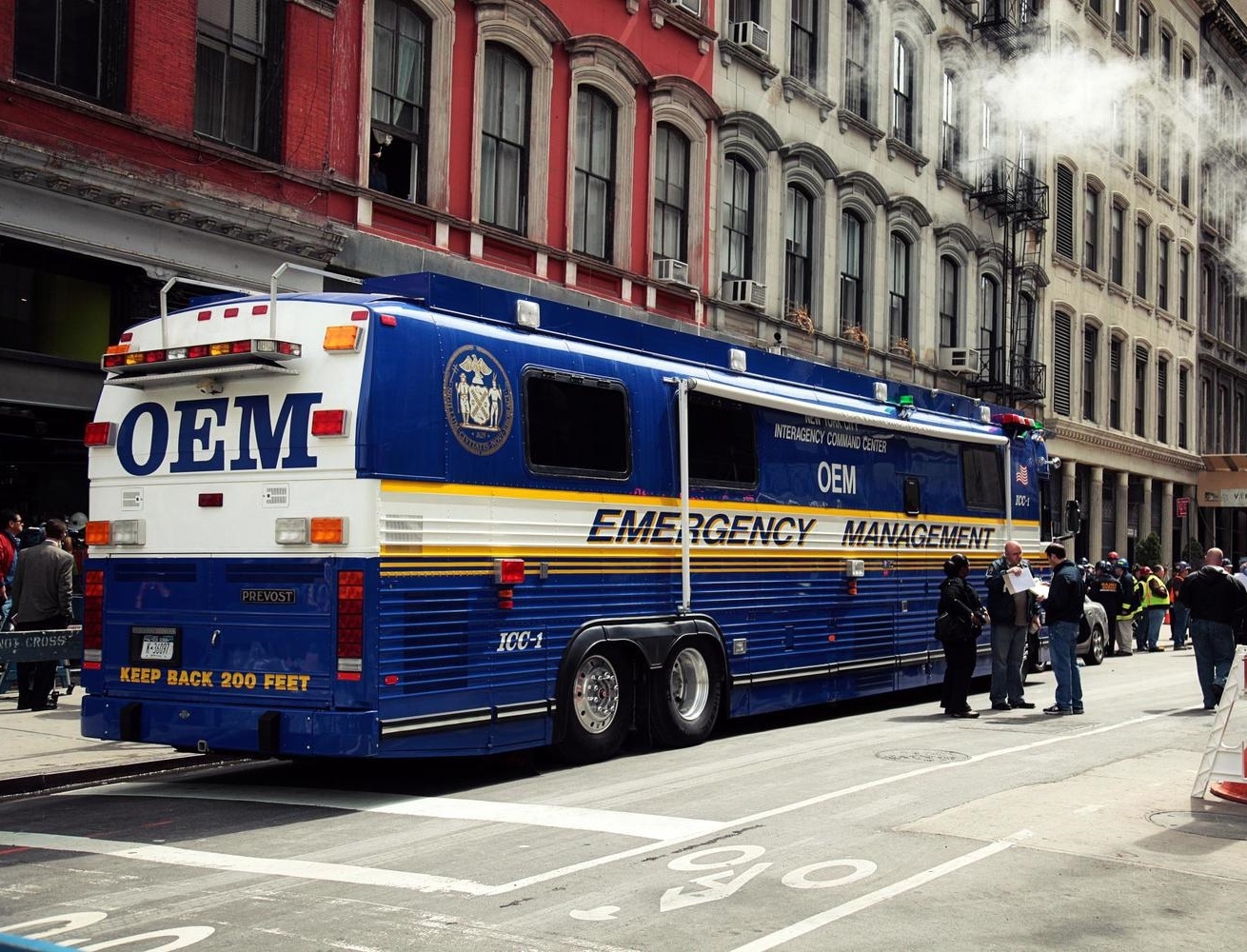 NYC OEM
The GIS division also has a role to play in the field. All members of the GIS Division are a party of the agency's ESF (Emergency Support Function) teams, and are on call, for response, three out of every nine weeks.
During a minor incident, OEM will deploy first responders and may not require GIS support. During a major incident, OEM will deploy the Mobile Data Center (MDC) to the scene. The MDC is loaded with workstations, plotters, and the agency's spatial database and allows OEM's GIS staff to conduct mapping operations on site.
Critical Infrastructure GIS Data Sets Project
NYC OEM

The umbrella counter-terrorism grant under which I was hired, the project was funded by the U.S. Department of Homeland Security's Urban Areas Security Initiative (UASI). Many projects were executed under the grant, including the New York City Subway Project, the establishment of the Public Safety GIS Data Development Center - and others supporting agency communication, exercises, preparedness, and planning for protecting the City's critical infrastructure from acts of terrorism.
NYC OEM
During a significant emergency response incident involving an underground subway station in New York City, first responders may find themselves navigating a smoke-filled labyrinth beneath the city streets.
Under the New York City Office of Emergency Management's Critical Infrastructure GIS Data Sets Project, I've worked with two other teammates in the construction of a comprehensive data set detailing plans of all 468 of New York City's subway stations. One by one, the team converted legacy CAD drawings from the MTA into a GIS format, extracted the vertical levels, and georeferenced the stations to their proper orientation in the urban landscape.
During a response operation, Incident Commanders at the surface will have access to the data set through an application designed to provide enhanced situational awareness, way finding, and navigation.
Vertical Integration Project
NYC OEM
With funding provided through the US Department of Homeland Security's Urban Areas Security Initiative (UASI), the Vertical Integration of GIS Data Sets Project is tasked with illustrating the value of three dimensional data for first responders. GIS is typically used as a two-, or two and a half-dimensional analytical tool, but dense urban environments require first responders, and therefore, geospatial data stewards, to think three dimensionally.
From the fresh water supply tunnels buried hundreds of feet below the street to the communications antennae on the tops of skyscrapers, New York City is layered with critical assets. Critical vertical adjacencies regarding precious or hazardous systems are often unclear because assets are concealed behind facades, under the pavement, or on the 47th floor.
The VIP, a comprehensive three dimensional GIS study covering eighteen square blocks surrounding Grand central Terminal, is tasked with the visualization of these vertical relationships to provide responders and incident commanders with an enhanced level of situational awareness in their rescue and recovery operations.
Planning and Preparedness
NYC OEM
The GIS Division produces all of the mapping documentation for OEM's major emergency plans and live exercises coordinated with local, state, and federal agencies. The example shown here was prepared for an exercise concerning the aftermath of a radioactive device detonating in Times Square.